R Star Foundation: Women helping Women and Children in Nepal … therefore the world.
Rosalind Russell, President-Elect of our club, is the founder of R Star Foundation and has been providing goats to families in rural villages in Nepal since 2003 and is now providing greenhouses.  The goats provide relief from hunger and are bred into herds which provide income for those devastated by poverty and the recent earthquakes.  Each of the women who receive goats stipulates she will "pay it forward" by providing two offspring goats to another woman in need.  The ability to be generous with the gifting of these goats has empowered the women almost as much as the receipt of their original goats.  The cost of one goat is $200, which includes microfinancing for the village women.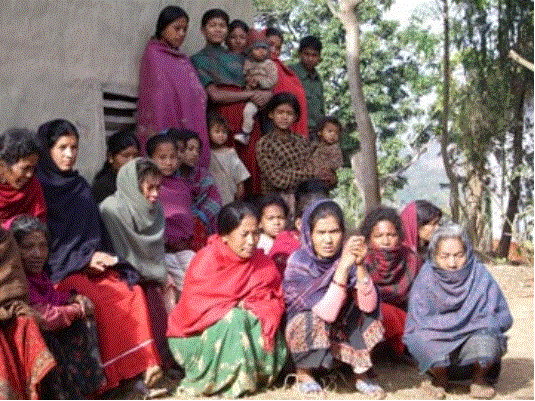 Village women gathered for a meeting.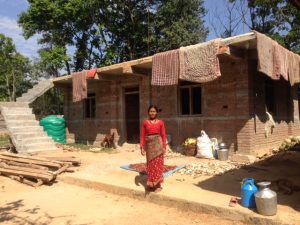 Suntali Danuwar in front of her unfinished home where she is drying her clothes. She has been a beneficiary of R Star since 2003.
R Star's mission is to help needy families in rural Nepal gain economic independence "one goat at a time" – but the nonprofit goes much further than that, facilitating education for children and women in a country with a 92 percent illiteracy rate in its rural villages.
This year R Star provided 30 bamboo greenhouse for the earthquake damaged Nepal villages they support, with a need for 18 more greenhouses to be sponsored (at $600/greenhouse).  The greenhouses offer year-round organic farming, adding to the meager income they get from only two seasons working in the fields each year.  R Star greenhouses produce up to four crops per year, in some cases, five. The plants are started by organic seeds the villagers have for each growing time. Being organic means they bring in higher prices as organic produce is pricier.
Our club's Executive Secretary, Kim DeBroux is the President of R Star Foundation and works with Rosalind to provide for the women and children in 51 villages in Nepal.  You can get more information or donate at rstarfoundation.org.
Tech Trek Central Oregon at OSU-Cascades in Bend, OR
Our Society tells girls and women that they don't belong in science, technology, engineering, and math (STEM) fields. As early as first grade, children have already developed a sense of gender identity, and most have developed unconscious bias associating boys with math. Toys still reinforce rigid, highly gendered stereotypes that encourage only boys to build or engineer.
At almost every step of the STEM education ladder, we see girls walk away. By seventh grade, many girls are ambivalent about these fields, and by the end of high school, fewer girls than boys plan to pursue STEM in college. Especially in engineering, physics, and computing, female college students are likely to be outnumbered by men in their programs. With some important exceptions, schools dedicate few resources to recruiting and retaining students in fields that are non-traditional for their gender. Women who do graduate with a STEM degree enter a workforce that is historically unfriendly to them. And once they get there, stereotypes, gender bias, and the climate of academic departments and workplaces continue to block women's participation and progress.
But the low number of women and girls pursuing STEM fields is not a status quo we can live with. It has significant implications for women's financial security, economic growth, and global innovation.  This is why the American Association of University Women in Bend, Oregon decided to create a week long STEM camp for girls matriculating into the 8th grade in Central Oregon, who are from under-served backgrounds, to explore and celebrate their interest in STEM. They target girls from mostly rural schools who 1) demonstrate some interest in STEM learning (determined by nominations from math and science teachers) 2) are in the academic middle and are 3) less likely to have exposure to STEM due to socio-economic status, residence in a rural or under-served school, identify as students of color, are identified as English language learners, have a disability, or a combination of these factors.
Tech Trek is a residential, week-long summer STEM camp at OSU-Cascades. 72 girls stay on campus, eat meals in the dining hall, and attend core STEM classes during the first half of the day. During the rest of the day, girls go off campus to expand their knowledge and experience with STEM careers in workshops or on field trips. In the evening the girls attend social events, picnics, and have fun bonding together.
The university campus experience is one of the most important aspects of the camp, as all campers have the opportunity to live the life of a college student. Living in a dormitory, eating in a dining hall and attending classes for a full week, this immersion encourages the girls, and indirectly their parents, to visualize college in their future. The cost to send each girl to camp is $1,162, of which each family is only asked to pay $50 and the rest is raised from grants and donations.
Central Oregon has growing STEM industry networks from software development to semiconductor manufacturing, aviation innovation, a growing bio-tech industry, among others. Tech Trek increases the reach of the local AAUW network to increase opportunities for STEM professionals to interact with, partner, influence and serve as STEM role models at Tech Trek camp.  2018 is the second year of the Central Oregon camp, however Tech Trek camps started in California in 1998 and have been proven to make a real difference in encouraging girls in science, technology, engineering, and math (STEM).  AAUW surveyed campers who attended Tech Trek in California from 2006 to 2009 to find out how the camp is helping narrow the gender gap in STEM. The evaluation results show that Tech Trek ignites the spark of learning that stays with girls their whole lives.
Our club made a substantial donation to the 2018 Tech Trek.  Kim DeBroux, our club's Executive Secretary and webmaster, is the Tech Trek Central Oregon camp Co-Director.  To find out more about Tech Trek Central Oregon, or to donate and help sponsor a girl, visit the website:  techtrek-centralor.aauw.net
National Marrow Donor Program
  One of our members volunteers with the National Marrow Donor Program on a monthly basis, helping to save lives by delivering transplant materials to donors in need.  For the thousands of people diagnosed every year with life-threatening blood cancers like leukemia and lymphoma, a cure exists. Over the past 25 years Be The Match ® , operated by the National Marrow Donor Program ®  (NMDP), has managed the largest and most diverse marrow registry in the world, working every day to save lives through transplant.  Learn more at bethematch.org